Mittwoch, 18. Oktober 2023
2: Pressemitteilungen
Planned chat scanning leads to disproportionate and indiscriminate mass surveillance!
PRESS RELEASE
from the Committee of Independent German Federal and State
Data Protection Supervisory Authorities
17th October 2023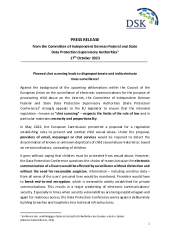 Against the background of the upcoming deliberations within the Council of the European Union on the surveillance of electronic communications for the purpose of prosecuting child abuse on the internet, the Committee of Independent German Federal and State Data Protection Supervisory Authorities (Data Protection Conference) strongly appeals to the EU legislator to ensure that the intended regulation – known as "chat scanning" – respects the limits of the rule of law and in particular maintains necessity and proportionality.
In May 2022, the European Commission presented a proposal for a regulation establishing rules to prevent and combat child sexual abuse. Under the proposal, providers of email, messenger or chat services would be required to detect the dissemination of known or unknown depictions of child sexual abuse material or, based on certain indicators, contacting of children.
It goes without saying that children must be protected from sexual abuse. However, the Data Protection Conference questions the choice of means because the electronic communication of all users would be affected by surveillance without distinction and without the need for reasonable suspicion. Information – including sensitive data – from all areas of the users' personal lives would be monitored. Providers would have to break end-to-end encryption, which is meanwhile widely established for private communications. This results in a major weakening of electronic communications' security. Especially in times when security vulnerabilities are being exploited again and again for malicious access, the Data Protection Conference warns against deliberately building breaches and loopholes into technical infrastructures.
The Data Protection Conference emphasizes that the planned chat scanning leads to an indiscriminate mass surveillance that is not compatible with the fundamental rights to respect for private and family life, the confidentiality of communications and the protection of personal data.
The resolution of the Data Protection Conference "Planned chat scanning leads to disproportionate and indiscriminate mass surveillance!" ("Geplante Chatkontrolle führt zu einer unverhältnismäßigen, anlasslosen Massenüberwachung!" [in German]) from 17th October 2023 is published here:
https://www.datenschutzkonferenz-online.de/media/en/20231017DSKEntschliessungChatkontrolle.pdf [Extern]
Contact:
Chair of the Data Protection Conference (DSK) 2023
Unabhängiges Landeszentrum für Datenschutz Schleswig-Holstein
Holstenstraße 98
24103 Kiel
Germany
Telefon: +49 431 988 1289
E-Mail: dsk2023@datenschutzzentrum.de